If you have teddy bear info of your own that we haven't thought of yet, just
contact us
. The more answers, the better this site will be for you...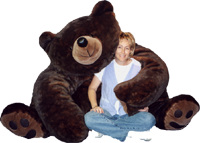 Information

Our info section is aimed at providing you with all the answers to every question you ever had about stuffed animals, such as "Who are the manufacturers?", "Who are those fabulous artists that keep coming up with more huggable cuties every year?", "Are there clubs that a teddy bear fan like me can join?", "How do I get my bear cleaned?", "What's the history behind these cuddling toys?"

But there's even more... is your favorite cuddle toy in need of some repair? We have a list of places where you can go to have some patch work done. And did you know that teddy bears even have there own museums now? Check it out!

Just browse through the info that we gathered here for you. It's all pretty amazing stuff. Enjoy your journey of discovery...